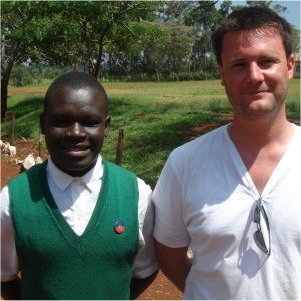 Paul Ojowi, pictured here with his sponsor Jon Neep.
Paul wants to be an engineer, and without help he would have just left school in November 2009 with no future. He has no living parents and lives with his grandmother. He is regularly in the top four in his class, and will be sure to make good grades in his final examinations.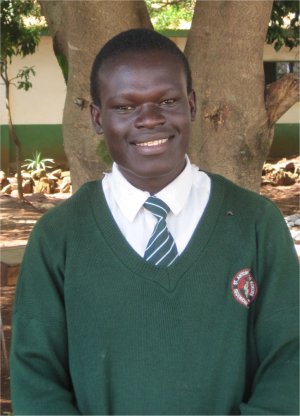 Above: Paul in 2012
Completed his final year 2013
---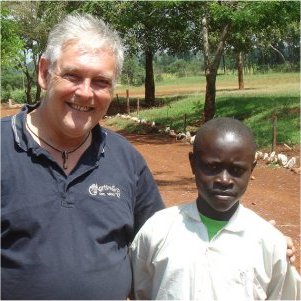 Alex Owino Omundi
Alex Owino is a vulnerable child . He lives with his aged grandmother and the family has little to no income. His father is dead, and his mother remarried, but as is the culture here, the boy was not adopted by the new husband.
---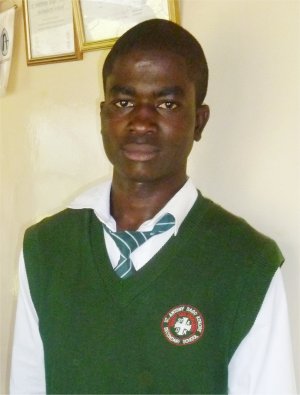 Above: Alex November 2012
---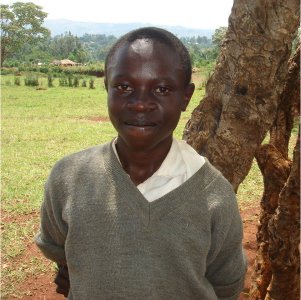 EZEKIEL OMONDI
(in 2009)
This is a child fairly typical of the kids in Alara Primary School. He is in grade 8 (15 years old) and in his final year at school. Most children just finish school at 15, and few have any prospects for the future.
Ezekiel was born to an unmarried mother, and at less than one year old was abandoned because his mother married and her new husband would not take the baby. (This is typical in Kenya). Ezekiel was therefore brought up by his grandmother (grandfather had died of AIDS). Three weeks before our August 2009 visit his grandmother died, and then he went to live with an uncle, a young married man of about 30 years of age. The uncle already has four children of his own, and although he has a labouring job at a local builder's merchant the pay is so poor that he worries about being able to support another. We saw him cry in desperation. The children are all under fed and unhealthy.
Ezekiel was bitten by a rabid dog in August. He had a large untreated wound in his leg right through to the bone. His teachers and uncle were worried sick, because they did not have the ability to pay for treatment, either to the wound or for rabies shots. Rod and Gay paid around £80 for his treatment, and he was taken to the hospital in the city of Kisumu. Without the treatment his fate, like so many other children, would have been terminal. A young life was saved.
Ezekiel was 1st in the class in primary school. A bright boy.
---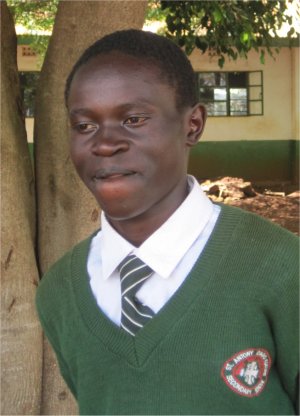 Above: Ezekiel in 2012
---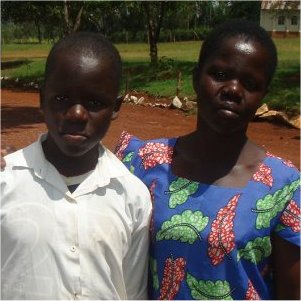 Kelvics Muga Ondiek
This boy lost his father to AIDS. His mother, Janet is in dire need of help. She is also HIV positive and is unwell. A few years ago we helped her by buying three sacks of maize, so that she could sell it by the roadside in Kiboswa Market. She now feeds herself and her family by selling the maize, and regularly buys new sacks herself to continue her little business. A success story in itself. She also supplements her income by doing some cooking at Alara School at lunchtimes. Kelvics Muga is her natural son, and she worries about their future.
Despite her dire situation she has adopted a street orphan who hung around her every time she went to market with her maize. Actually, one day, the boy (Michael) announced that he would like her to be his mother, and she agreed to take him home. The boy started primary school at Alara in 2009 and is doing well. Janet is one wonderful lady! On my visits to Kenya, I always make a point of finding her, and offering a little money, which she gratefully accepts with tears, smiles and hugs.
Kelicks Muga failed his KCPE exams in Novermber 2009, but attended Alara Primary school again in 2010 to repeat his final year, and this time passed with really good marks. We have also paid for his school fees, new school uniform, shoes, books and equipment, etc.
We had news in January 2011 that Janet's meagre mud hut home was destroyed. The roof fell in due to a storm when they were sleeping. They slept in the back of a store in Kisumu Market for a year, thanks to one of the local traders. Life just isn't fair for Janet and her family. BUT Rod & Gay were able to donate money to enable Janet to rebuild her home in 2012.
---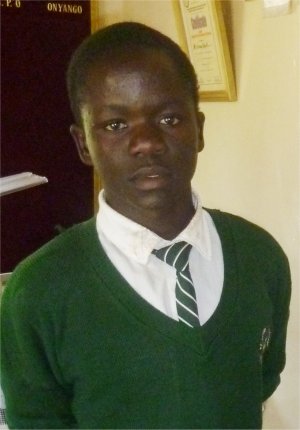 Above: Kelvics in 2012
He completes school in November 2014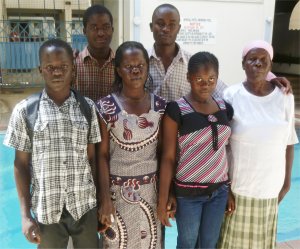 Above: Janet (centre) , Kelvics left, Alex back left, Leus back right. The grandmother of Alex front right. (2012)
Janet can only be described as a wonderful lady and an inspiration to all. Despite her destitution she adopted more children. It is wonderful to see her situation so much improved from when we first met her in 2005.
Below: Janet still sells maize at Kiboswa market on Wednesdays and Saturdays, seen here sitting on the purple chair, and with Alex's grandmother standing on the left.. (Photo November 2012)