---
The existing provision for the infant school children was far from ideal, situated in a small church building several hundred yards from the main primary school site. Over 100 children were all being taught in the one room in three groups. There were few facilities and teaching resources, and no money to provide for them. The children sat on church benches, and there were no tables or even spare floor area on which to play.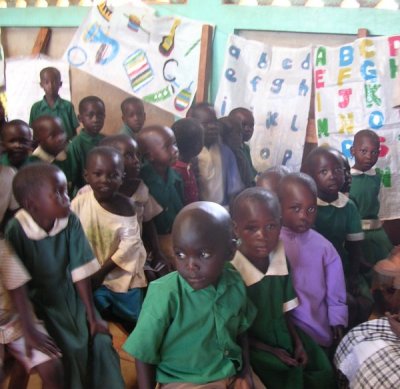 Below: Rod Neep meets some of the infant children in their church school room on Monday 24 October 2005. Just before this, as we walked into the building, these children were singing enthusiastically for us, which was an immensely moving experience.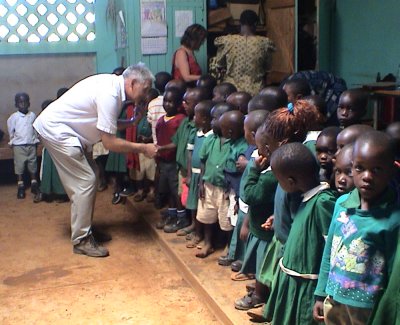 ---
The building of the new infant school at Dago Kokore began earlier in 2005, and has now reached completion
In case you missed it: the 2005 story so far.
Well.... here it is. We did it!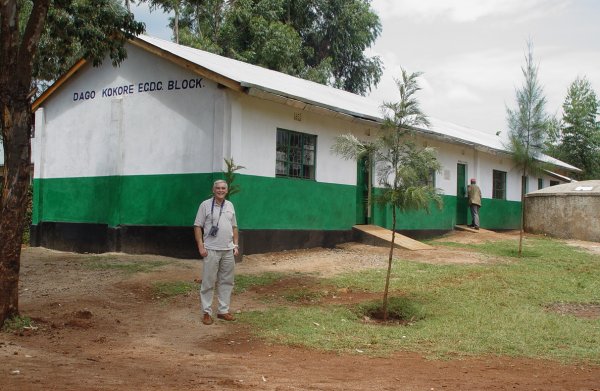 Rod Neep at the new school
In October 2005 Rod and Gay Neep travelled to Kenya to officially open the new infant school (Early Child Development Centre) at Dago Kokore on Tuesday 25 October.
The new school building has three large class rooms plus a large office room which is capable of housing children with special needs. The school will cater for children aged 4 to 6. It is extremely important that these children have the opportunity to start education at a young age before joining the adjacent primary school.
In Kenya, education is paid for by the government for seven to fourteen year olds, but even so, standards are not what what we would expect in our countries. Infant school education is present, but takes a much lower priority and needs to be self-funding. Funds, needless to say, are minimal, and only those children whose parents can afford it can have their children attend early school. School fees are incredibly inexpensive to us, but a lot of money to the Kenyan parents, assuming that the children have parents, as about 75% of the children are orphans.
To the Kenyan teachers and the community, it is incredibly important to have this new school. It is something that they never thought was possible in their wildest dreams. The complete cost of the school building was Kshs 557,467.30 (£4,236.75). To us, that is really very little, but to the Kenyans it is a huge sum of money. Putting that into perspective, a teacher's salary in Kenya is around £45 per month.
---


Arrival at Kisumu, and the airport
Immediately upon arrival on Saturday there was lots to do! We had an empty school building, and we took with us an additional £1,300 to buy resources for the school. By Tuesday!
We were taken to visit the school, which is about 15km out of Kisumu in the rural area. Needless to say, we were astounded by the building. The last we had seen was a photograph of the bare walls and the roof added. A local carpenter had already made the prototype of a pair of tables to seat six children, copied from a photograph sent over from England. So the first task was to pay for, and set in motion the making of twelve pairs of tables like this, four pairs for each class room. They will be completed within two weeks at a total cost of Kshs 12,000 (£91.00). We are also having four teachers' tables made.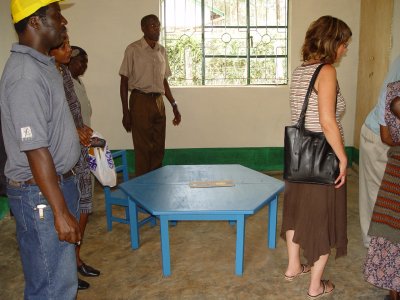 One of the main things we needed were chairs for the children. We managed to find a wholesaler in Kisumu, talked to the owner about the project, and he gave us a special price on 200 chairs and delivered them for free the same day.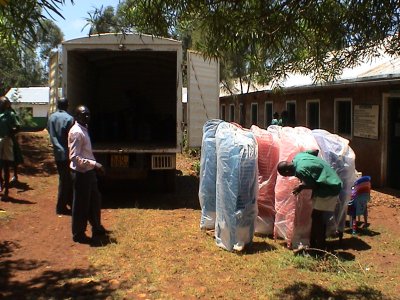 A lorry arrives at the school with the chairs. 200 of them plus 4 teacher chairs and some plastic storage boxes. Total cost Kshs 32,570 (£250).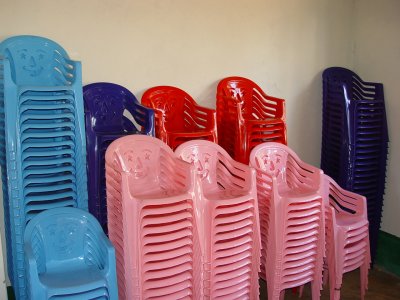 ---
In Kisumu there is an educational supplies shop, and we went there to buy class room resources:
Powder paints (18 large pots)
Paint brushes (36)
Beakers (12)
Glue (2 large pots)
Scissors (24)
Pencil sharpeners (9)
Drawing pins (10 boxes)
Colour pencils (12 large packs)
Pencils (150)
Art paper (100 A2 sheets)
Tracing paper (100 A2 sheets)
Exercise books (48)
Teachers' record books (8)
Wall charts
Lots of books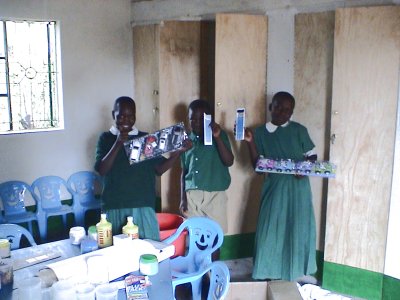 Children from the primary school were helping us unpack, seen here holding toys and paint brushes, with various of the resources on the table.
As part of the continuing need for toys and musical instruments, we have allocated Kshs 12,500 for woodworking tools and materials to the Grade 8 class in the primary school (14 year olds). These older children can then design and make resources for the infant school children.
---
We arrived at Kisumu airport at 9.00 on the morning of Saturday October 22nd, and were met by Diana, Tom, and Zadok the head teacher.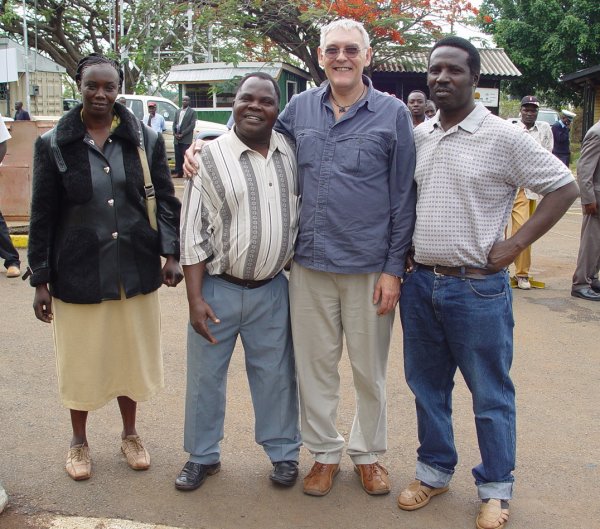 Left to right: Diana, Zadok (head teacher), Rod, Tom
Infant children need toys, and so we went shopping for musical instruments, cars, dolls, construction kits, hanging mobiles, sand and water play apparatus.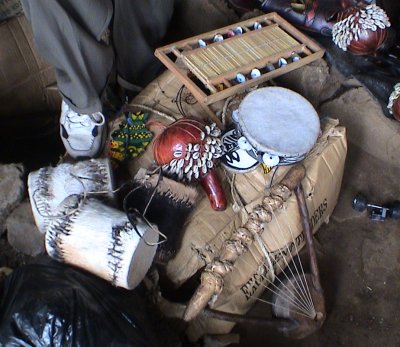 Musical instruments from the market in Kisumu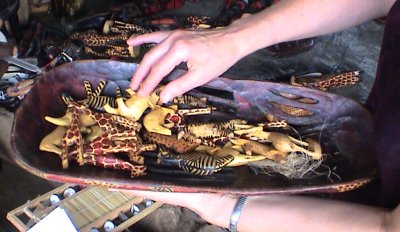 A selection of wooden animals.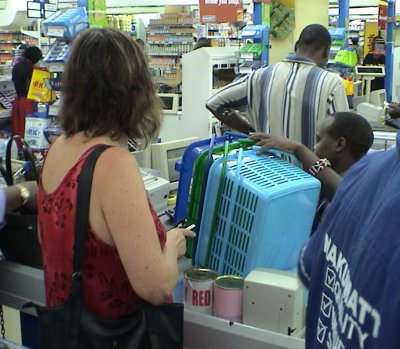 Gay Neep buys storage baskets from the supermarket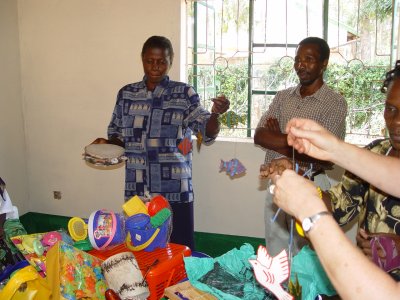 And unpacking it all back at the school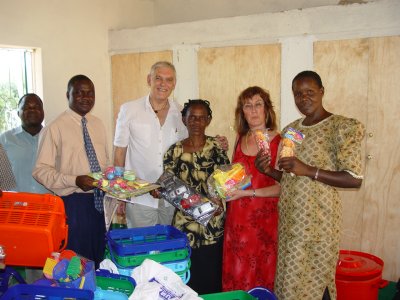 A group of us pose with some of the the toys in the office room. In the background are three large lockable storage cupboards.